Rediscovering the Kerkebeek, opening up an underground stream
This pilot targets heat stress, drought and heavy rainfall
The Bruges region is extremely vulnerable to raising water level and floods in and around the city. As such, Bruges has signed the Flemish regional charter 'River contract for the Kerkebeek valley'. In it, Bruges commits to invest in sustainable reduction of the flood risk, through the provision of green infrastructure investments for all users.
Pilot location
City of Bruges
Landscape
Dense city and (sub)urban residential area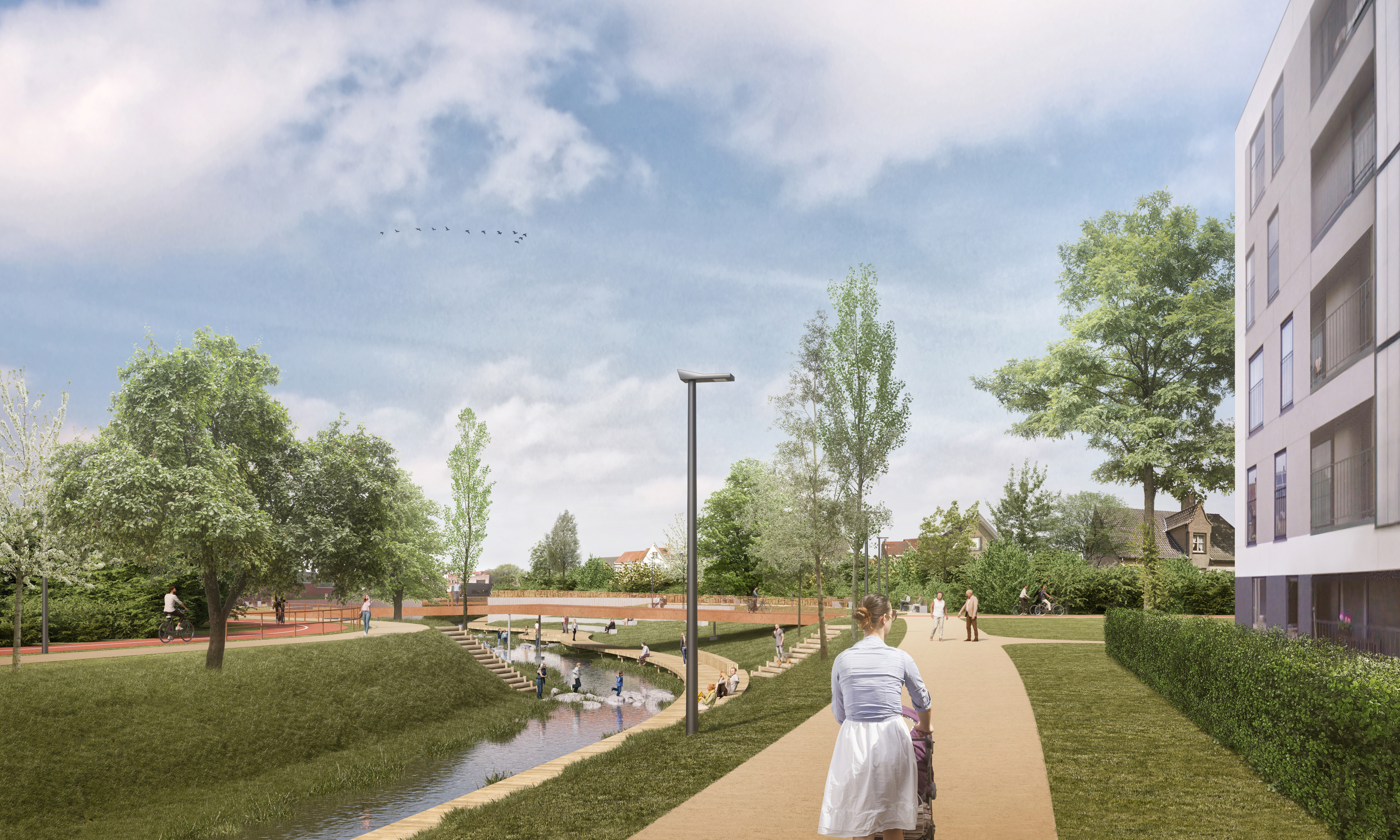 The Kerkebeek is a partly underground flood sensitive stream. Situated above the stream (above ground) is the Kerkebeek path which runs along the course of the stream and connects the city center with the hinterland. The path acts to connect different urban facilities, such as schools and recreational spaces.
The Nature Smart Cities pilot will set the foundation for the creation of climate resilient Wijkpark Ten Boomgaarde. Through the pilot the underground stream will opened up for the first time since the 1970s. The new open stream will result in a 70% increase in water buffering capacity, significantly reducing the risk of flooding in the local area. Once the pilot has been completed, the City of Bruges will move on to completing other aspects of the design for Wijkpark Ten Boomgaarde, installing further blue-green infrastructure and a bridge across the opened stream. The ambitious neighbourhood park will deliver multiple ecosystem services (water retention, micro climate regulation, habitat for biodiversity aesthetic appreciation, physical and mental health, real estate prices and social cohesion) and will be accessible to users of all ages.
The opening up of the Kerkebeek stream will be completed in early 2023. Following completion of the pilot, the creation of the new Wijkpark Ten Boomgaarde will be finished later in 2023.
First results are expected in 2022.
Contact
Stad Brugge- Cluster Openbaar Domein
Jonas Lagrou
Evelien Devriese