Rewatch the webinar: Using a New Business Model to Value Future Green Infrastructure Projects
Did you miss our webinar on the Nature Smart Cities Business Model? The recordings are now available.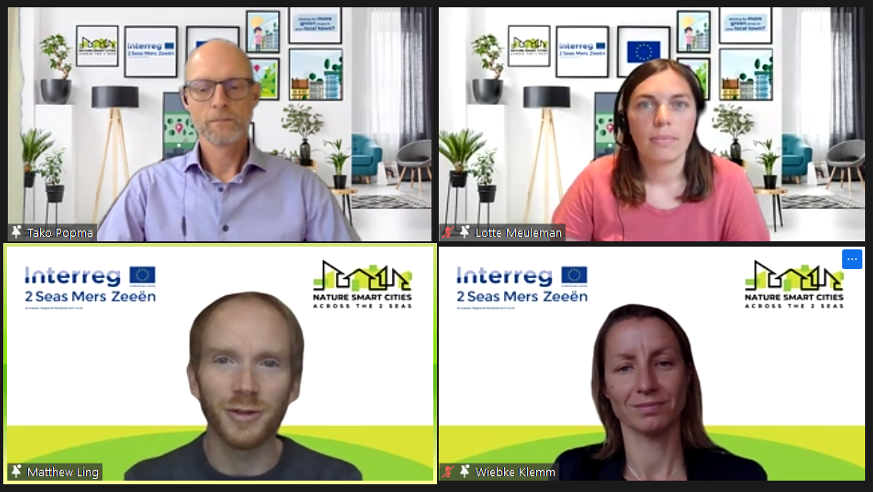 June 30th 2021, we held a webinar to share information on how our Business Model can support Local Authorities (LAs) to make more informed decisions about future investments in green infrastructure projects. The webinar showcased the Business Model and demonstrated how it has been used to assign quantifiable and economic values to our pilot projects. Opportunities for Local Authorities and Municipalities to participate in demonstrator testing of the Business Model and an extensive free Capacity Building Programme where also shared. The event was attended by over 70 participants from Belgium, The Netherlands, France and the UK. Did you miss the webinar? The full recording is available here.
The recordings of the individual presentations and the sheets of each presentation can be accessed via the links below.
Welcome and introductions to the Nature Smart Cities Project - Tako Popma & Anna Oxenham, Southend-on-Sea Borough Council
Nature Smart Cities (NSCiti2S) brings together 11 partners from Belgium, France, the Netherlands and the UK to develop a Business Model to support Local Authorities to make the business case for investing in Green Infrastructure (GI) solutions, over more traditional, grey approaches.
Presentation sheets
View recording
What are the challenges for Local Authorities - Phil Back, Independent Consultant
To ensure the NSCiti2S Business Model is fit for purpose, the project examined the issues and barriers facing Local Authorities through reviews of existing tools and financial mechanisms, and through 53 interviews with LA staff. This presentation will outline the key problems faced by Local Authorities that need to be addressed by the Business Model.
Presentation sheets
View recording
Introduction to NSCiti2S pilot projects - Henry Schokker, Municipality of Kapelle; Pilot video for the Hague; and Dries Lauwers, De Zuidrand
Find out more about these three GI projects – what they are, and the climate resilience and additional benefits they aim to bring to their towns and cities.
Presentation sheets: Revitalising Wemeldinge Noord
Presenation sheets: Permeable paths and water buffering ponds
View recording
Conceptualising the solution - the NSCiti2S Business Model - Wito van Oijstaeijen, University of Antwerp
In this presentation we introduce the concept of our Business Model, out-lining where it fits in the decision-making process and how it enables LAs to prioritise ecosystem services through the Multi- criterial Analysis which features at its core. The use of the projects GI pilots, in particular for the City of the Hague and the Municipality of Kapelle will be used to demonstrate how the co-creation and conceptualization was achieved.
Presentation sheets
View recording
Panel discussion - Co-design of the NSCiti2S Business Model - Wiebke Klemm, City of the Hague; Lotte Meuleman, Province of Antwerp; & Matt Ling, Cambridge City Council
The Business Model will be a product of collaboration between academic and city partners, bringing the gap between scientific research and practical application. In this short panel discussion, we hear from 3 of the project's City Partners about their experience in the development of the Business Model and the supporting role they see it playing for their LAs in the future.
View recording
Introduction to NSCiti2S pilot projects - Jonas Lagrou, City of Bruges; & Rachel Porter, Southend-on-Sea Borough Council
Find out more about these two GI projects – what they are, and the climate resilience and additional benefits they aim to bring to their towns and cities.
Presentation sheets: Rediscovering the Kerkebeek
Presentation sheets: Launchpad
View recording
Results of testing the NSCiti2S Business Model with 5 GI projects - Maira Finizola e Silva, University of Antwerp; & Kris Verheyen, Ghent University
The NSCiti2S Business Model will be tested and validated through its application to 7 GI pilot projects. In this presentation we share a summary of the results from the testing with 5 of the 7 pilots. The results will be presented by ecosystem service types.
Presentation sheets
View recording
The NSCiti2S Business Model in Practice - Wito van Oijstaeijen, University of Antwerp
A beta version of the NSCiti2S Business Model will be available at the beginning of 2022. Here we detail how the Business Model will look and work. We will also present the Business Case factsheet that can be generated as the final output.
Presentation sheets
View recording
How to join the NSCiti2S Project? - Tanne Schreuder, City of The Hague
Up to now the project partners have worked together, bringing the gap between science and practice, to co-create a Business Model for LAs. It is now time for this project to grow to include others! Over the next few years there will be several opportunities for LAs to be involved in the Nature Smart Cities project, through demonstrator testing to further ensure the Business Model is fit for purpose, to participating in National Capacity Building workshops designed to support LAs in implementing more GI in their cities and towns. Find out more about how to get involved and stay in touch.
Presentation sheets
View recording