Webinar recordings now available for the annual Exchange of Experience Event with the Cool Towns project
More than 200 participants from around the world joined the first Exchange of Experience Event. Missed it? The webinar recordings are now available.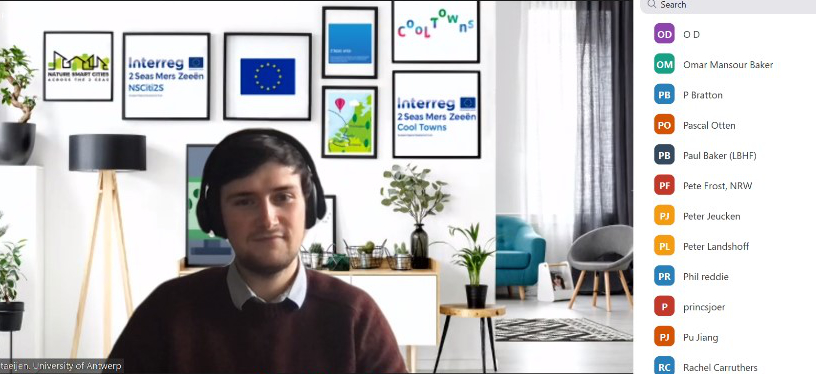 On Thursday 19th November, The Interreg2Seas Nature Smart Cities and Cool Towns projects' held their first annual exchange of experience webinar. This online event was attended by more than 200 participants from the UK, The Netherlands, Belgium, France, Germany, Italy, the United States, Thailand and South Africa. The webinar provided an opportunity for these two exciting projects, working to build climate resilience across European cities and towns, to share best practices and examples. The recording of the full webinar is now available via this link. Or, you can also access the individual presentations, via the links below:
Project Introductions
Nature Smart Cities - Anna Oxenham, Southend-on-Sea Borough Council
The Nature Smart Cities project is working to develop an innovative Business Model which will help cities and towns to make the case for Green Infrastructure solutions, over more traditional, grey approaches.
View here

Cool Towns - Tiny Maenhout, Gemeente Middelburg
The Cool Towns project focuses on finding attractive solutions to adapt small and medium sized cities to the heat-related effects of climate change through interventions in spatial development and urban design in public and private space
View here
Keynote Presentations
The Heat Measurement Protocol - Gideon van Spanjar, Hogeschool van Amsterdam
The protocol, developed by the Cool Towns project, enables provinces, municipalities and companies to develop and implement heat stress-reducing measures.
View here

Nature Smart Cities Business Model - Wito van Oijstaeijen, University of Antwerp
In this presentation Wito van Oijstaeijen shares the concept for the Business Model, outlining where it fits in the decision-making process and the Multi-criteria Analysis which will feature at its core.
View here

Getting more Green: Smaller municipalities' approaches to delivering green infrastructure - Phil Back, Imperial College London
To ensure the Nature Smart Business Model is grounded in the needs of smaller municipalities', Imperial College London conducted 53 semi-structured interviews in 2020, with officers and elected members in selected local authorities in the Netherlands, Belgium, France and the UK. Here Phil Back presents the selected results of these interviews, identifying the challenges the business model needs to address to break through barriers associated with implementing green infrastructure.
View here
Inspiring Good Practices
Four inspiring good practices from across the two projects were then presented:
Heat stress mitigation interventions in "Tuinwijk Jan Verhaegen" neighbourhood in Merelbeke
Jan Van Damme, Municipality Merelbeke
Green infrastructure interventions and inspiring good practiceces in Breda, Southend, Kent, St Omer, Middelburg and Oostende
Benny Pycke, Sioen Industries and Howard Gray, Green Blue Urban
An Innovative Urban Water Buffer in Cromvlietpark
Tanne Schreuder, Den Haag
Cambridge Canopy Project
Matt Ling, Cambridge City Council
The recording of these inspiring examples can be found here.